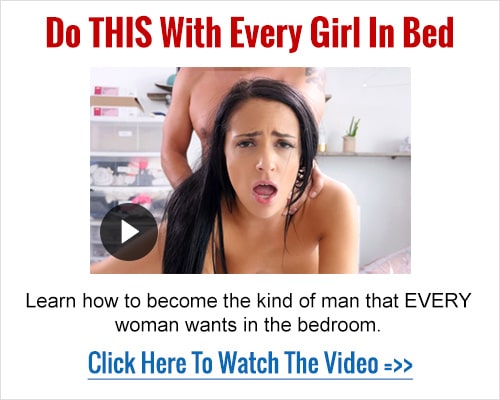 So you want to know how to make a girl squirt huh? Well sit back and read every word on this damn page, because you're about to learn some straight ninja sh*t that's going to blow your girls mind.
Wouldn't it be nice if you could take any girl back to your place, strip her down and make her cum so hard… so fast that she wouldn't be able to speak afterwards due to the shock of just how good your bedroom skills were?
Well, trust me when I say this dude…
Knowing how to make girls squirt is so simple, even the most inexperienced spotty virgin could do it.
Don't believe me?
Then keep reading and prepare yourself for some level 10 sex secrets that your daddy wish he knew growing up.
NOTE: If you want to become a master in the bedroom and give your girl orgasms she will never forget, then you need to watch this video.
Get familiar with the female orgasm
Did you know that women can have multiple orgasms with different parts of their vagina? It's true.
There are two in fact. Vaginal and clitoral.
Now clitoral orgasms are stimulated by… you guessed it… the clit. Seen as though it's so sensitive, the clit doesn't need much stimulation in order for it to make your lady blow.
But there are many different ways in which it can be tickled. Use your tongue, your lips, your fingers, sex toys, try lube also. Don't be too aggressive with it though.
Now let's move onto the most common type of orgasm…
The vaginal orgasm.
This is where most women cum. Simply through penetration and hitting the g-spot. If you can hit the g-spot and keep hitting it, she will be biting the pillow in no time.
If you can't find the g-spot, then you're a novice. It's about 2 inches in on the upper wall of the vagina and feels like a little nobbly bump.
Are you prepped bro?
Before you can start throwing down your newly acquired bedroom ninja skills, you first need to get her ready. The more comfortable you can make a girl, the easier it will be for you to give her a squirting orgasm.
1. Warm hands
NEVER EVER touch a girls vagina with cold hands! What are you some kind of savage? It will kill the mood and all she will be able to think of is your cold hands on her. So warm them up before and trim your nails too, scratching her is a mood killer!
2. Clean sheets
There's nothing worse than a girl coming back to your place, ready to get pounded and she sees your grubby smelly unwashed sheets. Instantly she will be turned off. It shows no self respect. Make sure you clean them every week.
3. Wetter is better
Don't even think about trying to make a girl orgasm without using lube. It makes the whole experience that much smoother and more enjoyable. Feel free to use either water based lube or oils like grapeseed oil or coconut oil.
4. Nice and relaxed
Take your time, be calm and controlled and act as if you're packing big brass balls. Women want a man who is in control of the situation and relaxed. This in turn will make her relaxed and comfortable. Don't rush anything dude!
Now that we have the basics handled, it's time for the ninja stuff. Ready?
Let's do this…
How to make a girl squirt within 2 minutes max
You have warm hands, the lube is by your bed side, her legs are spread on your bed and she's looking up at you expectantly. Now what??
Do THIS bruh…
1 finger stroke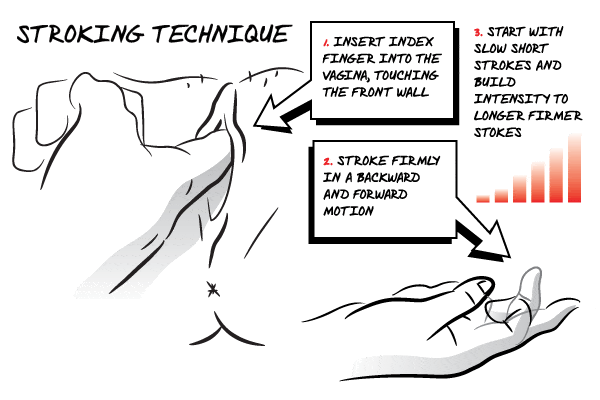 Take your index finger, now place it slowly inside her vagina until you reach the g-spot and gently make the (come here) motion, again and again.
Keep doing this for a couple of minutes and also move your finger in and out of her vagina every few strokes, just to change it up a bit.
After 3 or so minutes, use your middle finger and double up with your index finger, slide both gently back into her vagina and perform the same routine.
Wait 5 minutes, then do this…
Go full crazy on that puss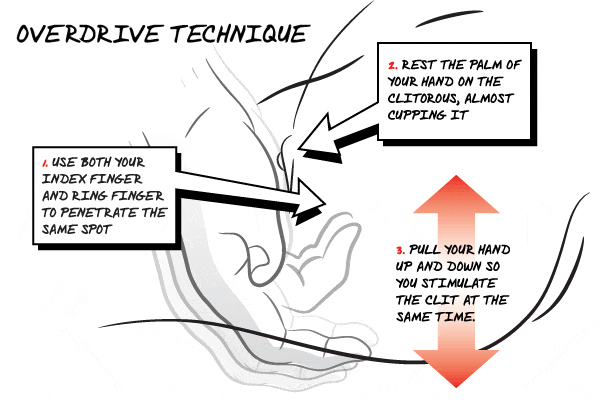 There's a technique called the overdrive and it will make her pop in about 60 seconds if you do it right. Everything above is just the build up, this right here is where the money is.
By now she will be relaxed, horny and a little wet from you stroking her puss. Now take your two middle fingers and gently slide them into her vagina.
Find the g-spot again and now, instead of going in and out, go UP and DOWN. Start off slowly… then build up gradually, until you are using every ounce of energy you have in your arm.
From the moment you start until she cums, you will feel her dripping wet pussy on your fingers. Don't stop just keep going until she squirts and gushes all over your bed.
Boom.. you did it 🙂
What if she can't cum?
Some girls, no matter what won't be able to orgasm just by using your fingers. So you need to learn how to eat her pussy properly. This guide will show you the best pussy licking tips that will make your girl quiver from the intensity of her orgasms.
The more you lick her pussy, the easier it will be to make her squirt with your fingers.
Conclusion: What should you do next?
Well the first thing you probably want to do is change the damn sheets! They will be wet, in fact both of you will be wet. So jump in the shower with her and lather up for round two.
Like I said above, if you do this right and follow the techniques outlined, she will squirt very quickly. There are some girls that can't have squirting orgasms, this is caused by several factors… but, most of the time it's due to her not being relaxed enough.
So that's how to make a girl squirt, good luck bro. May the squirting gods be with you…
Again, if you're serious about becoming a boss in the bedroom and making every girl you sleep with practicly beg you for more, then you should watch this.